Madelyn's little list of underrated books!
Hiya! It's Madelyn and I'm just idly sitting here waiting until it's time to go to church and then orchestra so how about I make a little list of books I think are pretty underrated?
These books are great books that I enjoyed and I just don't see enough around social media on bookstagram and all. So here we go!
Angelfall by: Susan Ee
Madelyn's Sucky Plot Summary (MSPS): There's this angel apocalypse where angels descend and destroy the world. So the modern world is flipped with street gangs basically ruling all of the streets. Penryn is a teenage girl just trying to survive with her mentally insane mother and her disabled little sister. But warrior angels fly off with Penryn's sister and she is left without her mother. She only has a wingless warrior angel named Raffe whom she has to work with to try to get her sister back from an angel stronghold where she could potentially die like three times. (I just copy and pasted from my old post about Fall Books. Check it out!)
It's seriously a great book. And it's a part of a trilogy. So yeah! Check it out! Penryn is a crazy badass heroine. She isn't a pushover and she's trying to save her sister during an apocalypse! It was a pretty thrilling book!
The Wrath and the Dawn

  by: Renee Ahdieh 
MSPS: Shahrzad volunteers herself to marry this caliph, Khalid, who is known for killing his bride every night only to kill her by dawn. She does this to try to avenge her friend who was killed by him earlier. She lives through each night by telling him these stories that entertain him. And she finds that there's more to him and finds herself falling in love which she calls herself out for betraying her friend. I'm not sure if I can continue on without spoiling.
I actually see this book from time to time on bookstagram. But I feel this needs a little more love. It's got beautiful writing. The phrases that were used to express love were just so smooth and beautifully written. I almost melted because it was that good. The book also has pretty great characters although, you can get annoyed with a few or so in this book or the next book. I did. But anyways, Shahrzad and Khalid were awesome. Shahrzad is pretty fiery so it was fun reading about her dealing with Khalid and a bunch of stuff that is thrown into her life.
Legend  by: Marie Lu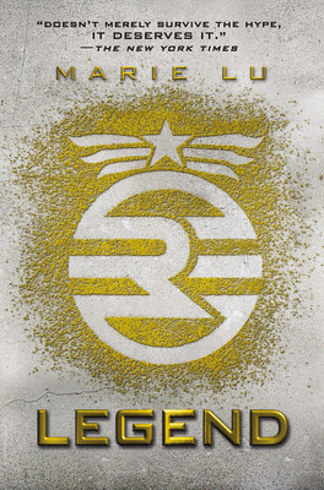 MSPS: Western United States is now called the Republic. June is this prodigy of the government after scoring a perfect score in the Trials which is this big test. Day is the country's most wanted criminal. Because June's brother, Metias, was killed suddenly and Day was the main suspect, June is sent out after him. And together, they discover that the government isn't what it seems.
This actually might be picking up in popularity because of Marie Lu's other book series, The Young Elites. But this is a good dystopian book. There was a little twist but the people who are better readers than me might be able to see it coming. There's some action and betrayal and it's just all sorts of fun.
Shatter Me

  by: Tareheh Mafi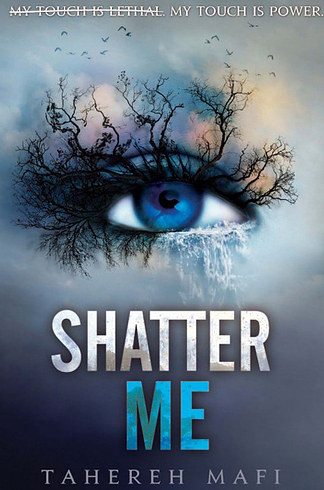 MSPS: Juliette has this mysterious power where her touch is lethal. Like it instantly kills whoever touches her skin. So the Reestablishment put her in a cell to keep her away from people after she accidentally kills this kid because the kid bumped into her. Then after being in a cell for a long time, she is brought back out (after getting a cool but not really cell mate). She meets this beautiful boy known as Warner who is the Chief Commander and he gives her the offer to work with him as a torture weapon. But you know, Juliette refuses and spends the next few books resisting and like trying to take down the Reestablishment. I was getting real close to spoiling some stuff if I haven't already. Ugh. This is why it is a sucky plot summary.
I read this whole trilogy within a couple of days during my semester break/Christmas break. It was glorious and a wonderful dystopian with romance elements that had me squealing. It has twists and turns and an evil antagonist. Warner is just beautiful and like he is the bad guy unfortunately…I'll leave it at that for him. I was close to spoiling more stuff. And the comic relief is absolutely awesome. Kenji is hilarious and yes. Read this if you like reading about a bunch of mutant freaks trying to take down the government.
Mistborn  by: Brandon Sanderson
MSPS: Kelsier is this man wanting to change the Final Empire and overthrow the Lord Ruler. Kelsier is a Mistborn, a powerful Allomancer who can use all of the metals (instead of one like a normal Misting or Allomancer can) which grants Allomancers abilities such as strength and enhanced senses. He meets an orphan girl, Vin, who has powers just like him and takes her under his wing as he gathers his crew of the most cunning underground Allomancers to overthrow the government. In other words, metalbenders (Kinda, but not really. The magic system here is different and crazy cool and complex.) try to overthrow a man who claims himself as God.
I wrote a review for this some time ago! This book was great and I am greedy for more love for it! This is a great fantasy for someone looking for some action and for those who enjoy books with the main group having this special banter that is very amusing. There's a strong female character who develops as the story goes on if that's what you're looking for too! And there's a hilarious main male character who is basically a murderer but he's this happy bundle of joy who does crazy things. Great book!
Sooo this took me longer than I thought it would to finish. I actually started this on October 1 and then I had to leave to church and orchestra rehearsal because I spent too much time dilly-dallying. Then I was busy with packing then I disappeared to go to Florida and only picked it back up tonight but then it got to midnight as I was trying to wrap it up. So yea.
This is just the list of underrated books I have read and can think of and also that I believe to be are underrated. I could be totally wrong and need to spend more time on bookstagram and neglect my school responsibilities. No problem. I'll only regret it afterwards, haha.
Good night! I promised my cousin I'd finish Empire of Storms by: Sarah J. Maas by the end of the week so I'm going to do that because I think she is itching to have a book talk with me.
What are some books you think are pretty underrated? Share with me! Spread the awareness!