Hi guys! It's Madelyn! I sure post a lot!
So if you follow me on Instagram (@snorting.books), you would see that I am sorta doing this book challenge by fellow bookstagrammers @novelsforalifetime @nerdbirdsbooks @adventuresbecause called the Coffee Tea and Books Challenge. Check out their accounts. It's awesome book aesthetic there. They know what they're doing!
The other day, the topic was Grande: Ever Growing TBR Pile. I took a sucky picture because I kind of suck at pictures with more than like three or four books because of the space I like taking it in. And just a little pile looked kind of weird with the sunlight and I was being weird too.
I'm going to kind of stop rambling now and just give you my darn tbr list (in no particular order). This is only the books I actually own and have sitting on shelf.
1. Crooked Kingdom  by: Leigh Bardugo
Quick Sucky Summary (QSS): Continuation of Kaz's predicament because of the events in the book before. Will he save his friend and become super rich like he wanted to in the beginning? Will he defeat his old foe?
Sarah really wants me to read this because she is suffering alone because of what's happening in the book. I think  I should read it sometime. But I got sucked into the world of another book so that won't be until later.
2. Gone Girl  by: Gillian Flynn
QSS: Nick and Amy are like the perfect couple. But suddenly, on their 5th wedding anniversary, Amy goes missing. Nick is the prime suspect. Is he really not the husband-of-the year but really a murderer?
3. The Warrior Heir  by: Cinda Williams Chima
QSS: Jack is just this seemingly normal kid except for the fact that he has to take medicine daily. But one day he forgets and he almost kills someone because without the meds, he's stronger, fiercer, and super confident. He finds out that he's got magic in his veins and one of the last warriors.
I got this at a book festival for a pretty cheap price. 🙂
4. Clockwork Angel  by: Cassandra Clare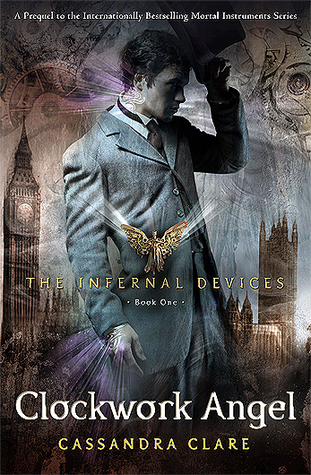 QSS: Prequel to The Mortal Instruments. Tessa tries to find her missing brother and befriends the demon-slaying guys, Will and Jem. And there's this organization trying to take over the British Empire and only Tess and her friends can stop them.
I've had this book since like July and I haven't touched it.
5. Falling Kingdoms  by: Morgan Rhodes
QSS: The book is mainly told from a couple different views of the characters. Mythica is a country with three kingdoms where magic is lost and the rulers are all like fighting for power. And the main four characters find that they all have something to do with each other during the power struggle and there's a prophecy of some kid who is going to bring back magic.
I've been wanting to read this book ever since Goodreads recommended it to me when I was reading Empire of Storms by Sarah J. Maas.  Then after I visited a college, my cousin wanted to go get some smoothies and I was like Sure, why not? And we saw a Barnes & Noble and we (mostly me. I screamed and squealed at the sight of it.) couldn't resist. I'm kind of reading this now which upsets Sarah because she's kind of suffering in silence, haha.
6. A Torch Against the Night  by: Sabba Tahir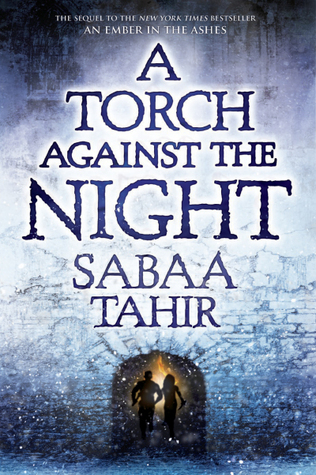 QSS: This picks up after the whole thing with Elias and Laia's situation after the trials. They're being hunted after and Laia has to break into this big prison to get her brother out. But they have to fight off crazy bloodthirsty monsters people.
7. Graceling  by: Kristin Cashore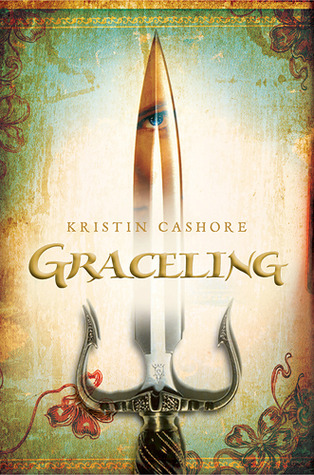 QSS: Katsa is a Graceling which is a rare person with an extreme skill. She's gifted with the ability to kill people. She's the King's niece and is forced to work for him. She meets Prince Po who is Graced with combat skills and doesn't expect to befriend him or find out the truth behind her skill.
8. Mervidia  by J.K. Barber
QSS: After the queen is killed, the High House Merwin are all scrambling to fight for power to get the throne and have someone of a race who isn't an ethyrie ruling. So friends turn on friends and house are against house just to get the throne.
So that's the little list. It's actually longer but I don't have a bookstore near me, thank god. Or not really thank god because I can't get my books and it kills me. I usually buy my books from Target. It doesn't help my tbr pile at home when I keep buying books. But who can resist?
Have you read any of these books? Tell me how you liked it! Or do we have any books in common just sitting in the tbr pile?